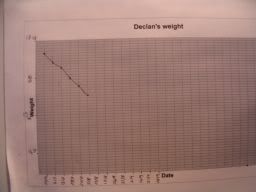 16lbs in 5 weeks!

When Sarah and I moved to Guildford it's fair to say that we had a few expectations - we thought we'd be rich (um not quite) we thought we'd make loads of friends (working on that one too) and we thought we'd be eternally happy (one day!!) but for me one thing that I fully expected to happen without trying would be losing weight and getting fit and healthy - after all going from the sedentary brixham life of doing nothing and eating rubbish food as our only entertainment compared with working a 40 hour week and then buying and cooking our own choice of food - to me it couldn't not happen!

Something was going terribly wrong - The scales were showing me something I really didn't want to see again - I was edging ever closer to 17st - after just a year before (check my post somewhere down the page) I had been getting close to that magical 15st. I was determined to do something about it - I was tentative for a couple of weeks - the pizzas were tempting and I didn't really have much energy - my trousers were getting a little tight for nine hours at work aargh.

I had a choice - exercise or diet? exercise is the obvious choice - after all it worked so well last year but money was low and surrey is expensive for just about everything, going to the gym is pretty boring too especially if it means time away from Sarah - what with us already spending so little time with each other relatively.

So - a diet - preposterous! I've never dieted in my life! ha! anyway they're all fads and they make you stupid and give you spots and you always feel hungry and you put it all back on again as soon as you stop and people look at you funny.

But what the hell - can't hurt to try - i just needed to find the right diet and motivation. Sarah and I laughed at the suggestion and came up with all sorts of comedy stereotypes (mostly derived from Little Britain) when we thought about Weight Watchers. I nearly didn't go - I came home from work and I was so down on the idea thinking that I really wouldn't fit in but with a little bit of a motivational talk I was off to my first Weight Watchers meeting - just a mile or so down the road.

To cut an already long story a bit shorter - it's been five weeks since I started with Weight Watchers - it is a little bit like the stereotypes - but that kinda makes it funny and I started at 16st 9lbs (233lbs) and today I weighed in at 15st 7lbs (217lbs) that means i lost 16lbs in 5 weeks! my target is 14st 7lbs so just 14lbs to go - i'm more than halfway there. we're keeping a graph on the fridge and i feel really good. I'm not doing the classic weight watchers point counting diet, i'm on the 'no count' diet which means i can eat as much as i want at mealtimes of all the foods from the 'no count' list which is mostly veg and low fat foods - it's a bit like the GI diet i've heard the great thing is i'm not feeling hungry all the time and i've got loads of energy.

Can't wait 'till next week's weigh in \m/!